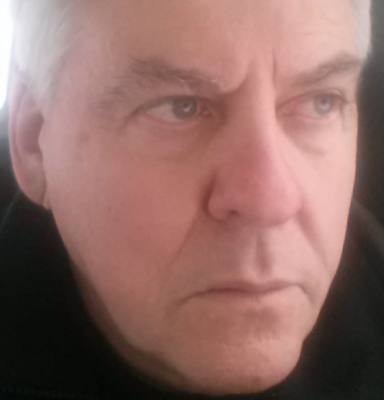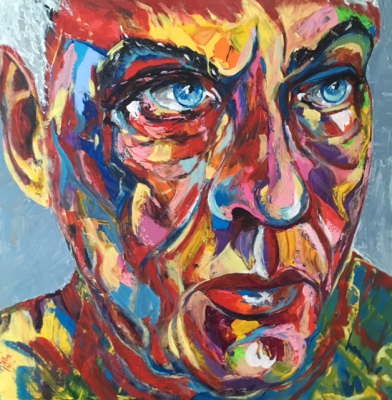 Sooner or later a selfie comes about, recently I had two canvases. These are 40" x 40" .Thought I'd play close to home.

Marie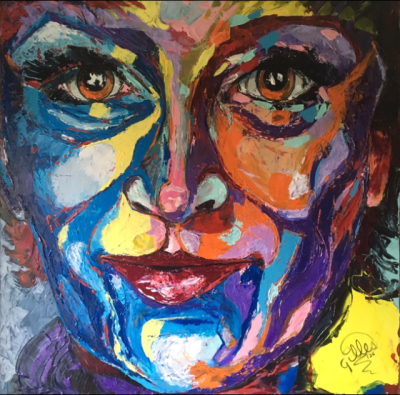 Gilles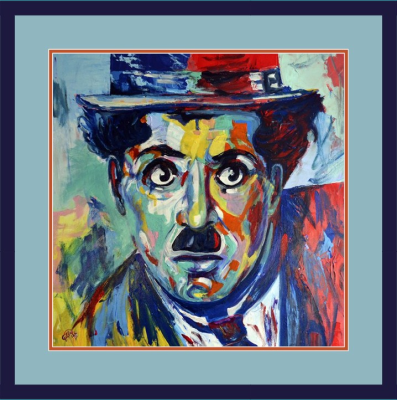 A Limited Number of Prints are available. Here is a   framed example. note that the frame is not included, these prints are shipped in strong tubes Signed and numbered.

Email for enquiries:
Gilles126@gmail.com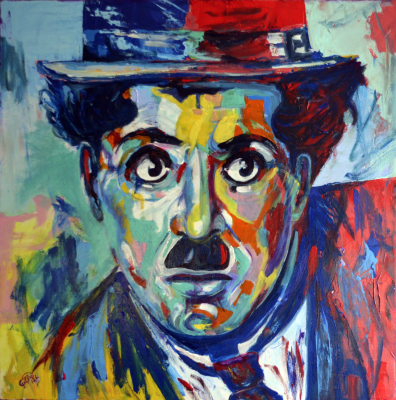 The Tramp
 Charlie Chaplin, 36" x 36" Acrylic on Canvas Done Octobre 2016, Varnished.

Can be seen At Galerie 203.
Contact Galerie Owner, Corinne Asseraf (514-261-0899) or visit the Galerie at:
203 rue Notre Dame o. Mtl. Qc.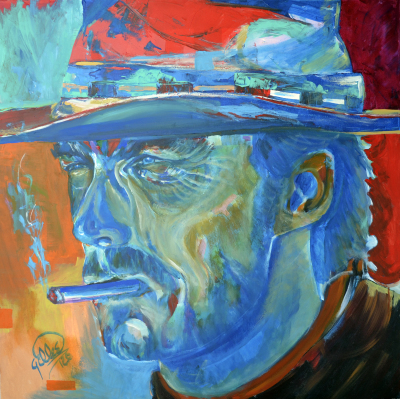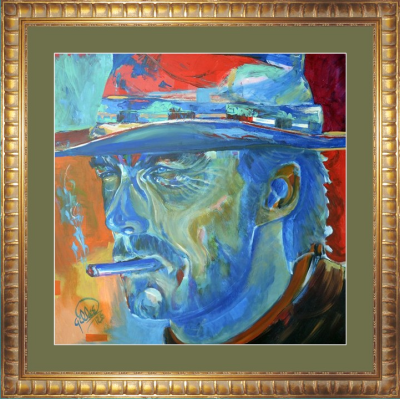 Clint Eastwood, Spaghetti Western Style,

40" x 40" Acrylic on Canvas.
Flat  Faced,  with Vibrant Background Colours,  trying to get a "3d cutout look" Got it Near the back edge with the hair against the red, Me Think!
  SOLD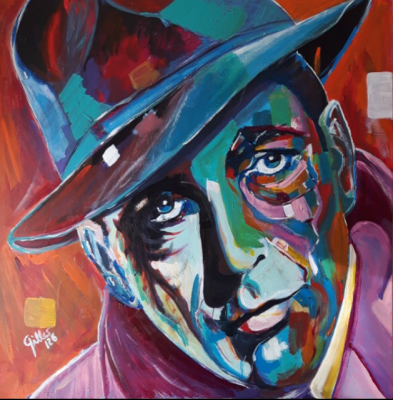 Bogie
Humphrey Bogart , of Casablanca fame, always a Classic, never out of style, still in progress but almost done.

36" x 36" Acrylic on Canvas
Can be seen at Galerie 203, in  Old Montreal.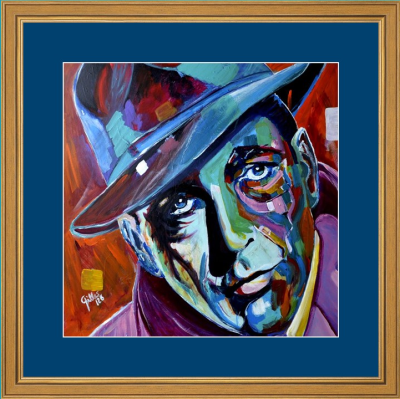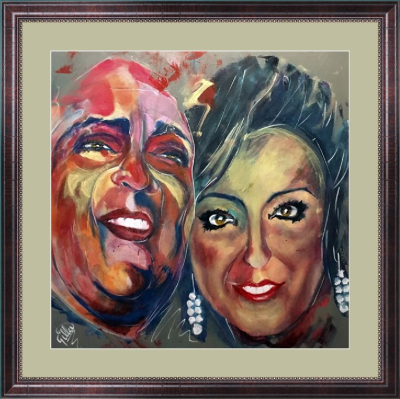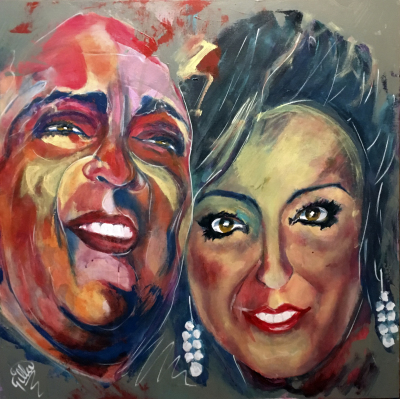 This fabulous Painting of a Happy couple, is 30" x 30" with painted Edges ready to hang and is inspired by people around me.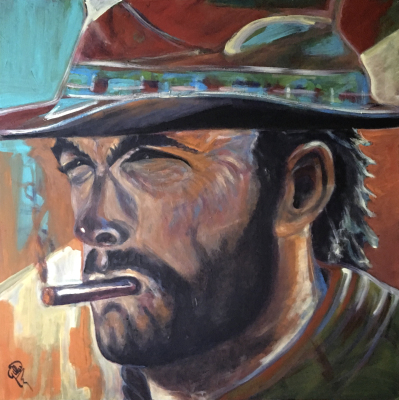 I have done  three Clint Eastwood based on the same image, here is the last one. It is 40" x 40" acrylic on canvas, This one is a little closer to traditional in Style.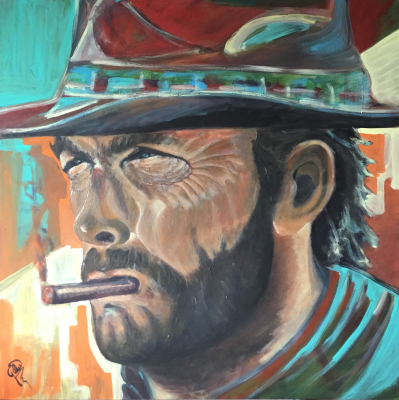 For better or for worse I made a few changes, for one I did not like the eyebrows and the nose was too dark, lightening the nose forced me to brighten the orange next to it, the yellow near the chin got a similar treatment I tried to achieve a better balance by removing a lot of the red in the skin and added bright colour to the bottom right to even out the big picture.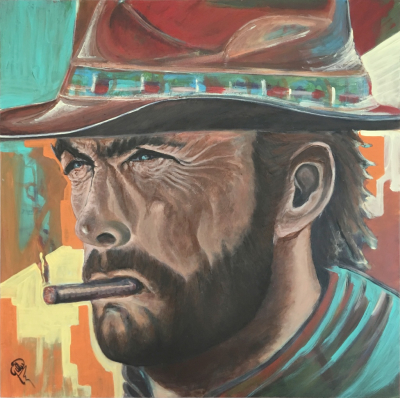 Here's the third Clint, it seems as I can never stop at two, most always end up working until three finishes have been done.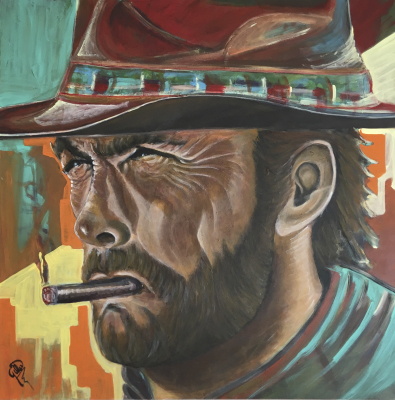 Had to ajust the squint a little, redefined the beard and hat, worked the face contrasts and gave some fire to the cigar.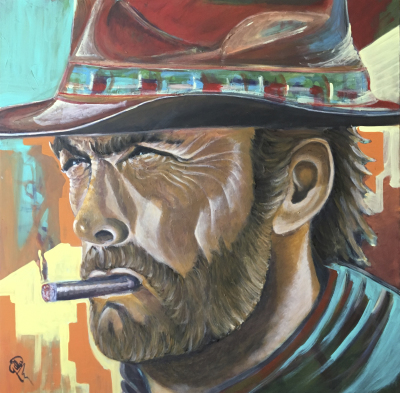 lightened the beard and skin.