Work in Progress
I will use this page to show what Im actually working on, when completed this Painting will move to the "Recent work" Page. in The future, I will try to show The sketch layout and more progressive images of the work, in Progress.
Pensive Mood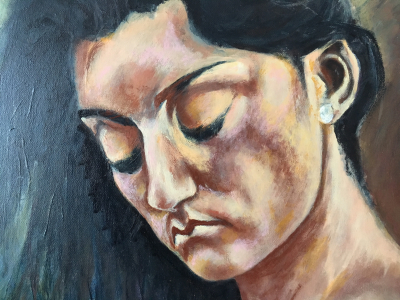 This is a Commissioned Portrait 18" x 24" as you can see my first draft is usually 

a loose rendition with a lot of artistic licence, but is not what the Client would want, I do try to keep a reasonable likeness throughout.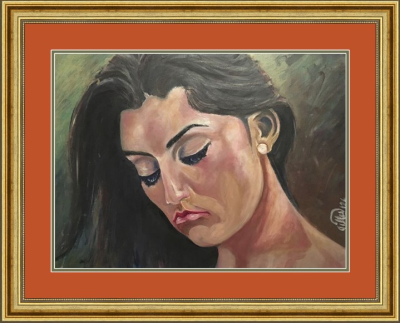 As a Framed Print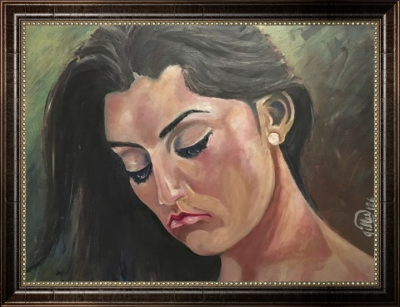 As a Framed Canvas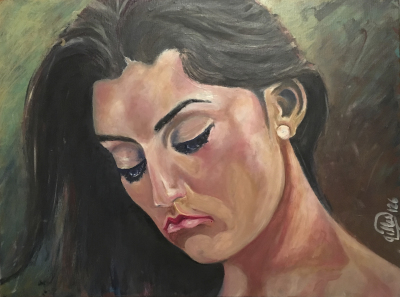 Here I have refined the image and is ready for final touches (added after final consultation with Client). I have turned the face a little toward me,it is a reasonable likeness, I could remeasure and fudge the image closer yet but im happy with it so thats it,  I dont do hyper realism, its a Painting not a Photograph. (Ps. I do like Hyper Realism, The technical aspect and control required is for the least,  impressive).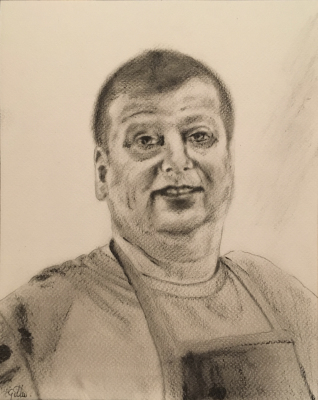 Johnny
And here's "Johnny" I dont have a good picture of him, just enough to guess at a likeness, I think i got it. There was a little paint left on my pallet so i did this quick dry brush on rought watercolor paper 8" x 10" Ivory Black only. The Fabriano 90 lbs paper did not work well for me, the paint was sticking and smudging, next time i'll try a finer grain paper.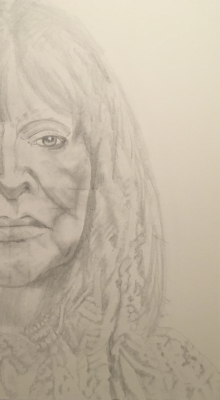 Buffy St-Marie
Started a painting that hopefully will look like Buffy St-Marie, The sketch is done directly on Canvas( this one is 40" x 40") I use Both Pencil and light wash of very diluted Paynes Grey. I try to keep a good likeness at this stage, it does not always work out but this one is ok. Note that sometimes a drawing a little out of tune will still give a very good result, maybe even a better one. For that reason I strongly recommend  a free hand drawing  everytime.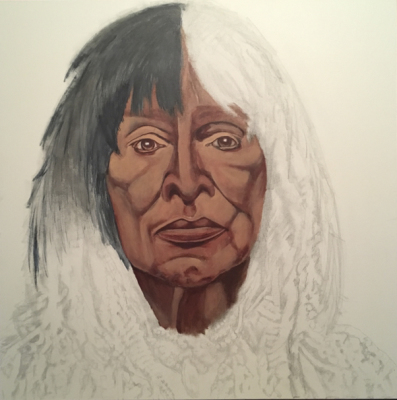 Here washes of Burnt Umber and Raw Sienna as well as Paynes Grey for the hair are applied in a rather flat tone, just filling  the portrait area. Note that I already lost the shape of the eyes, but not so much that it cannot be reset later.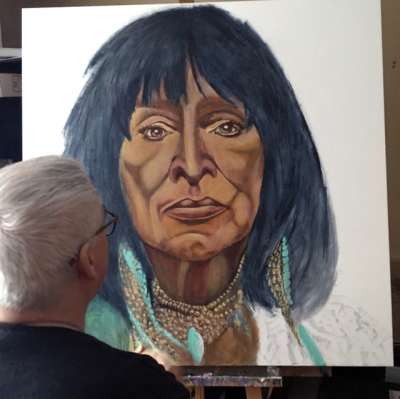 Retook the eye a little and started on the jewelry which in this case, is an important part of the painting, my head in this frame, is to give you a sense of proportion, not to show the cranial capacity.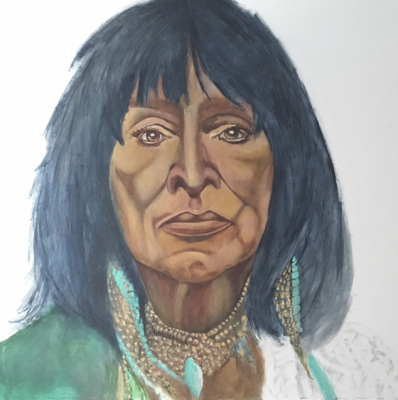 Here it is so far, it is still flat, without much highlights, These will come after the background is set. I am trying to slow down and not to finish the painting in one sitting, maybe this way the result will be better.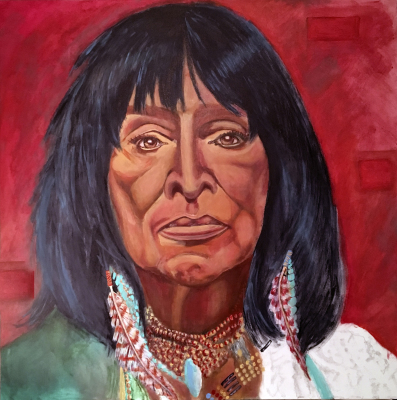 More refinements, this is the first Portrait I do in more than a single day, am trying to give myself time to think about how a painting should be finished and how I would like it to be, perhaps this way I can produce a finer product. Its just as enjoyable and it should allow me to work on several paintings at once.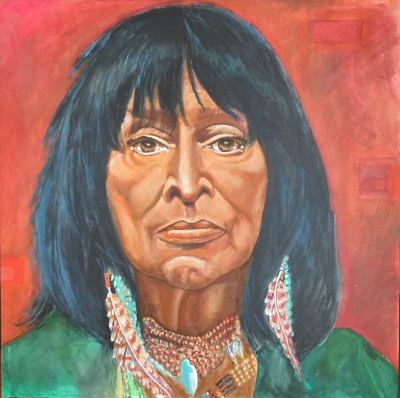 The portrait is now very close to what Im looking for. You may notice the fading of the red background so as to lose the dominance it was yielding, the eyes have been resized closer to reality, the harsh lines have been softened and toned down, the jewelry and the hair are not quite finish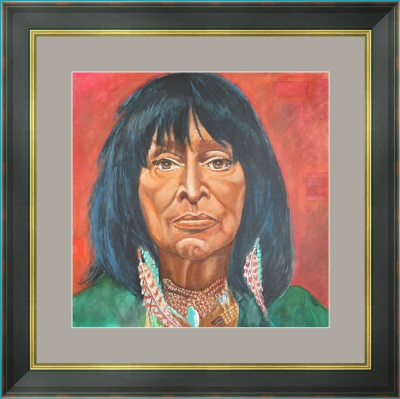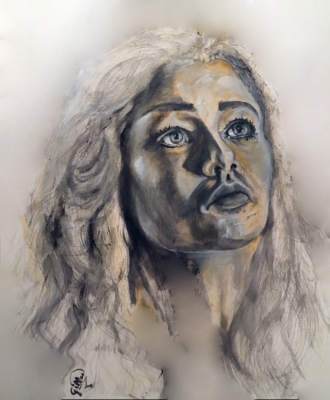 And here is the other project I was able to work on this weekend, its a simple two tones (Black and Yellow ochre) oil on cardboard portrait of Game of Thrones Daenerys. It was applied in the Dry Brush style and looks ok by my standards, (for a first attempt) I will do more dry brush oil as time permits. With a little practice some nice results can be expected. It is 

19" x 29".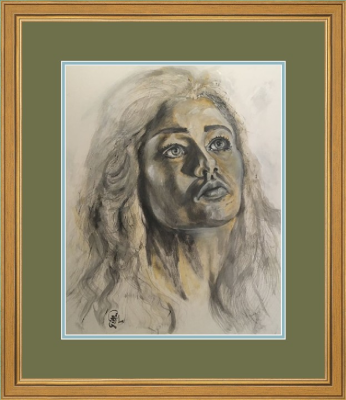 Daenerys
American Indians, First Nation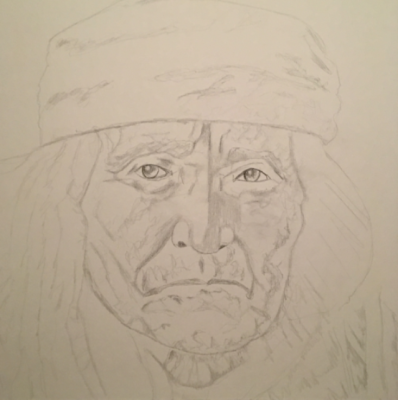 Apache
"Apache" (Geronimo) Here is the drawing on canvas for a painting simply called" Apache", It is 30" x 30" Acrylic on Canvas.  Fairly detailed it will show thru the first wash of paint, allowing me to continue without having to constantly reassess and reajust the shape of my original intent.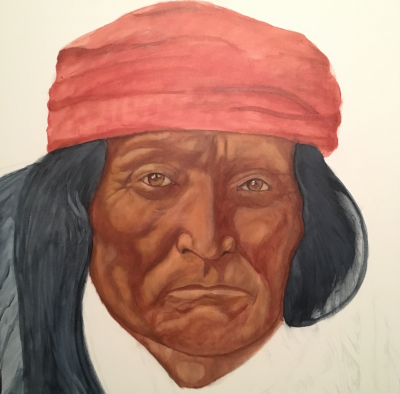 I am working on a series of around ten paintings  (American Indians, First Nation) starting with Sitting Bull, Geronimo, Yellow Cloud, and Buffy St-Marie. Many will be based on the photographic records of Edward Curtis, others like Buffy will be from our Contemporaries. 
As you can see after 3 layers of paint, the Drawing was not lost. The many thin layers, allowed to dry between applications should give more depth to the Portrait. So far I used Burnt Sienna, Raw Sienna, Cadmium Red Light, Yellow Ochre and Paynes Grey.
its almost there, not yet sure whether i'll light it up or leave it dark, the blanket is to be restyled, but the essential of it is done.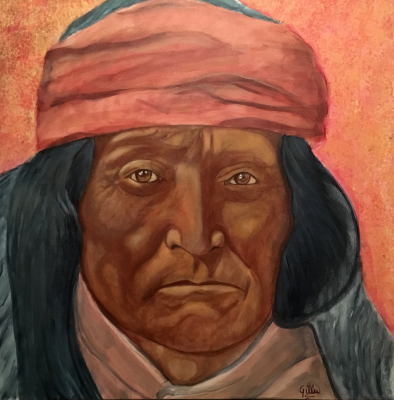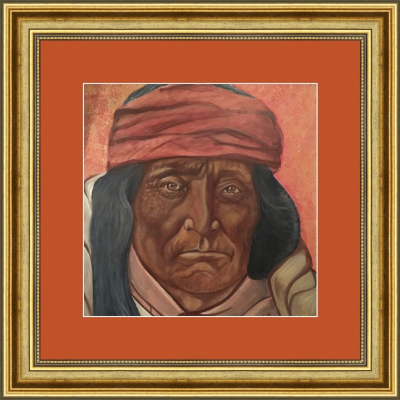 A Limited Number of Prints are available. Here is a   framed example. note that the frame is not included, these prints are shipped in strong tubes Signed and numbered.

Email for enquiries:
Gilles126@gmail.com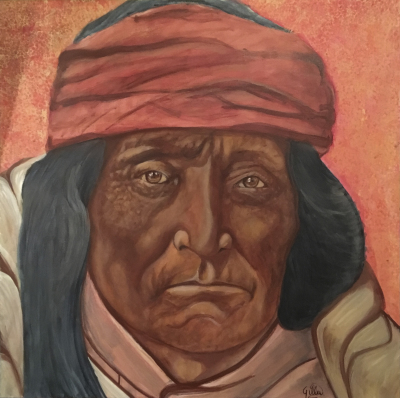 Decided to age the face a little and make a art deco style blanket over the shoulders, also added a little more curve in the nose and greying of the hair, its probably finished, although a background change is tempting.

The Original is for sale.
Email for Price.
"Yellow Cloud"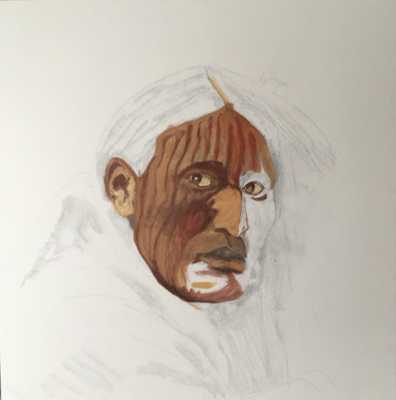 In 1906 J.P. Morgan Funded Edward Curtis to Produce a Photographic record of the American indians, This was to be 1500 images taken over 5 years and all over North America. This Painting is inspired by one of them. After making a crude drawing I decided to start on the white canvas rather than doing a wash of umber or sienna as I often do. Here I am using, Raw Umber Raw Sienna and Cadmium Red Light as the base tone.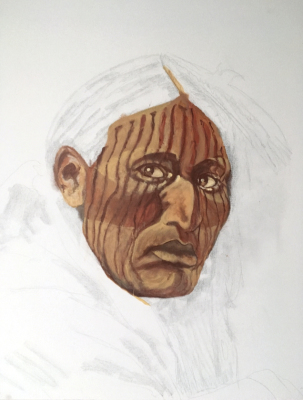 I fill the face first and add some Yellow Oxide to the mix, White and Paynes Grey are also on my Palette but I seldom use them on the skin.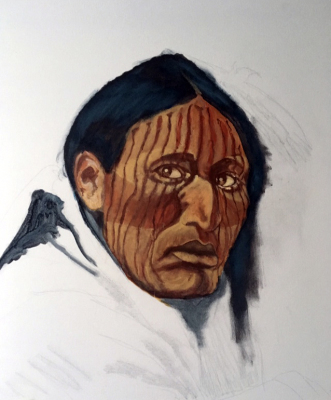 Shading in the hair, is where I use Paynes Grey, some blue is also blended in for highlights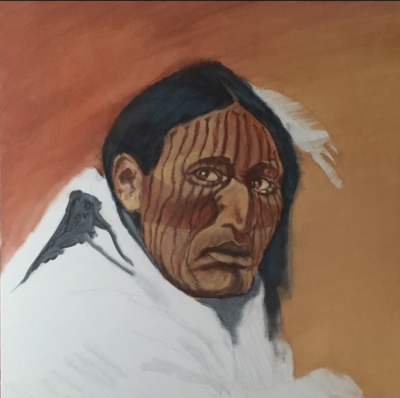 Picking SouthWestern colours for the background a Mix of cadmium Light red and Yellow Oxide and a touch of raw Sienna.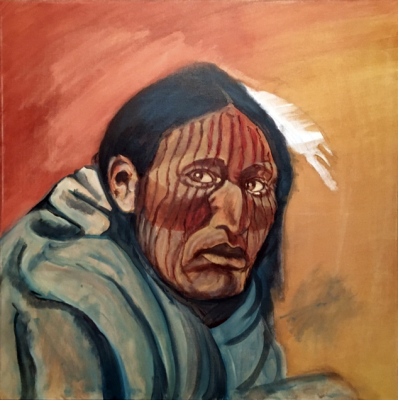 To simplify the Process I Decided on a Blanket for Garment, Painted with a mixture of the colours already in use.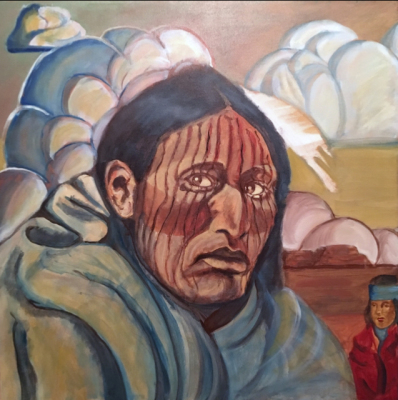 After looking at it for a while The thing apeared a little boring, Background can always be populated differently.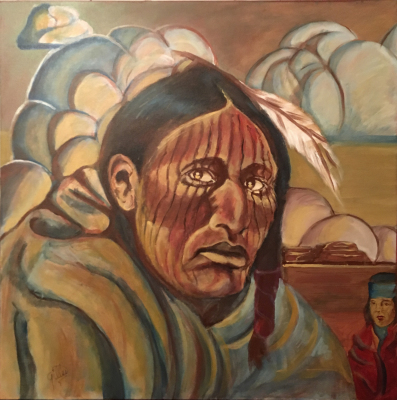 there's were I sit so far, it is a 30" x 30" Acrylic on Canvas, a nice way to spend Sunday afternoon. The Picture was taken in the evening and the colours seem a little dull. Will look and take a daytime Photograph and decide how much more work this one needs at that time. Hope you Enjoy.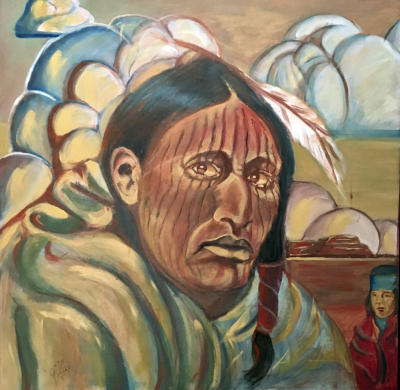 I've added Highlights to the Clouds, Hair, and Blanket. Reworked the skin for a more balanced tone, working to bring just a little light in the overall image. so "Yellow Cloud" is done and will be varnished tomorow.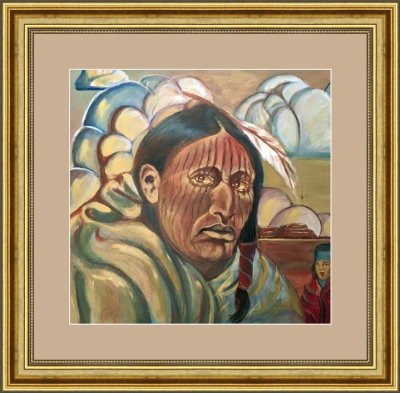 Here is an example of a 16" x 16" Framed and Matted Print.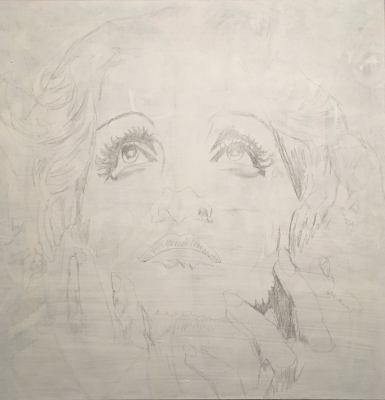 Marlene Dietrich
Here is a drawing on Canvas that should have translated in a Marlene Dietrich Painting, The drawing is ok, the likeness is good. The Canvas is 36" x 36". The painting did not pan out, mouved on.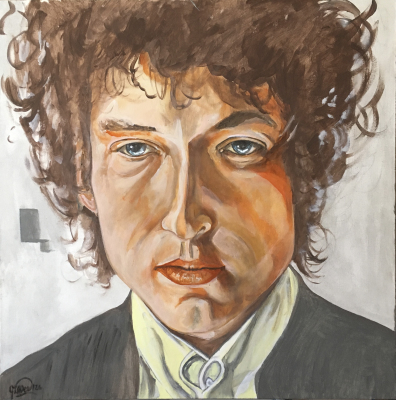 Started a series of Bob Dylan Paintings, many people I know have requested this subject, Im happy to indulge them.
This is the First one it is 30" x 30" Acrylic on Canvas its called "Bob Dylan Then"
It is featured on the home page of this site. I have used the dry brush method for this one and am pleased with it.
It looks great on the Wall.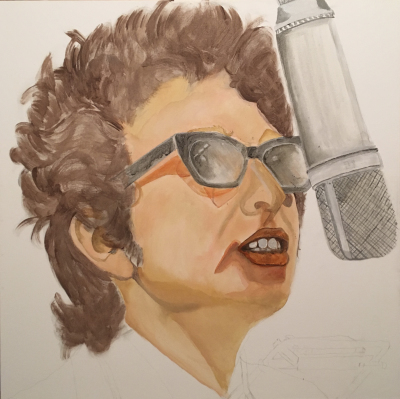 Here is the Second Bob Dylan Painting,
Did these Two this weekend but did not complete this one. Caugth a movie instead. It is 30" x 30" Acrylic on Canvas.
This is a good size for this kind of Portrait and has a good impact on the wall. Both these started with a very basic line drawing directly on the canvas.
Go to the Artpal Button at the top of each page for price details.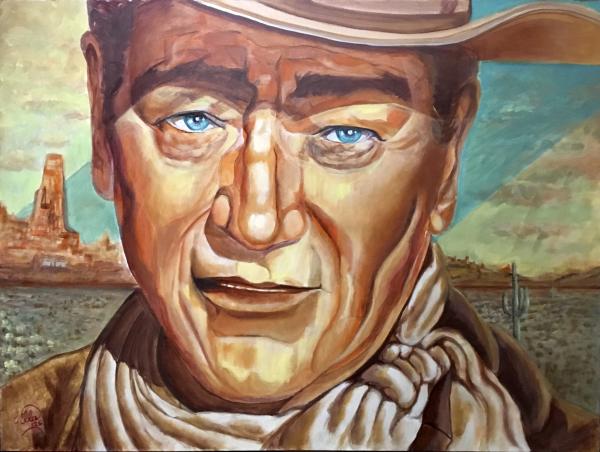 This is a 36" x 48" Acrylic Portrait of John Wayne. A While back I saw a painting of John Wayne I Liked and I found the Photograph that was used as reference.
Painted my own.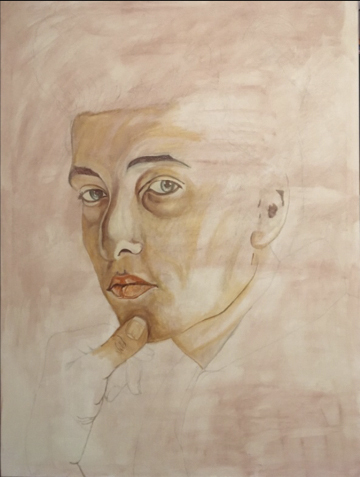 Started on Bob Dylan #3
This one is 36" x 48", I'm using a burnt umber Wash as a base and have drawn
a simple line sketch to guide me, then I start by brushing light washes of skin tones while trying to keep a vintage look.
At this stage I apply corrections when needed, by application of white paint folowed with a  burnt umber wash , that brings me back to the original base.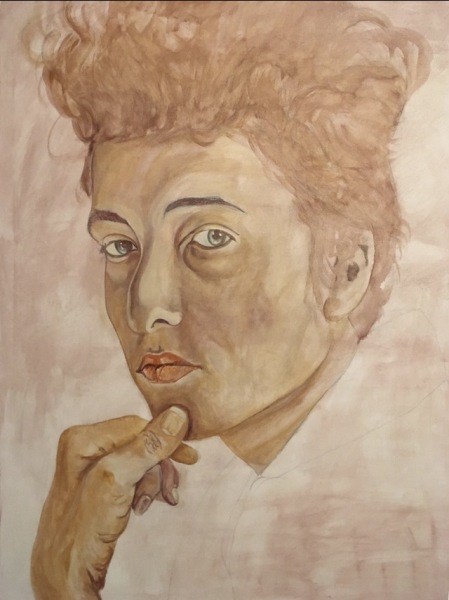 Moving along with the hand (it needs corrections at the major's nail .) And added a pale wash to indicate the Hair volume and direction. The Photo source for this project indicates a dark colored jacket wich I might change to a loosely worn shirt for a more interesting effect.
The noze is too curvy.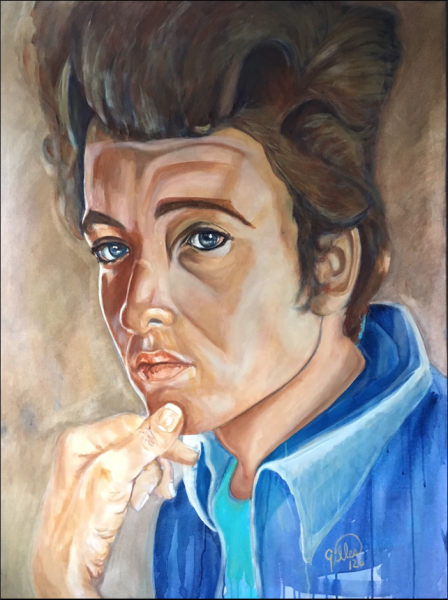 This is where I'll stop, the likeness is lost  but I like it, so it's now called "Boy in blue shirt".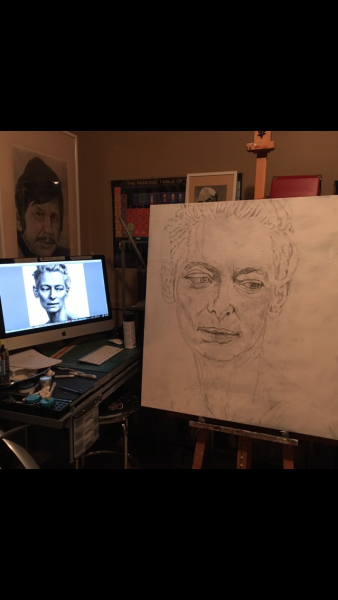 I Found an Image I liked online while looking for something else, I screen saved and forgot about it. The other day Looking up my saves I decided to draw this very interesting face, I could not find who she was, though I thought I had seen her before. Here is the image on my computer, and the sketch on canvas.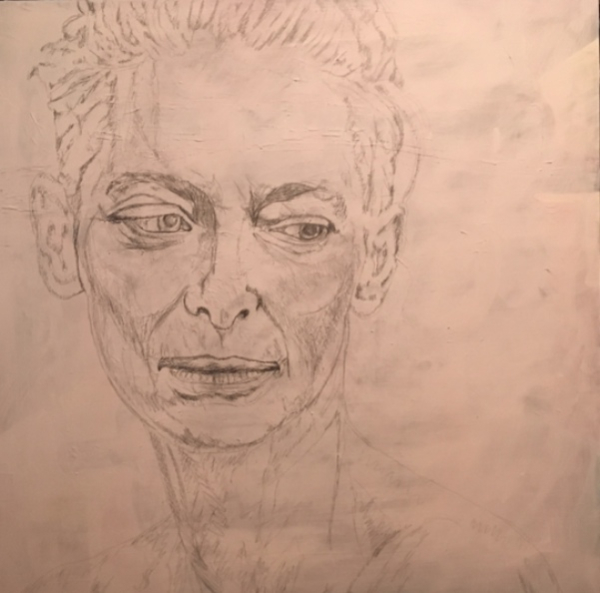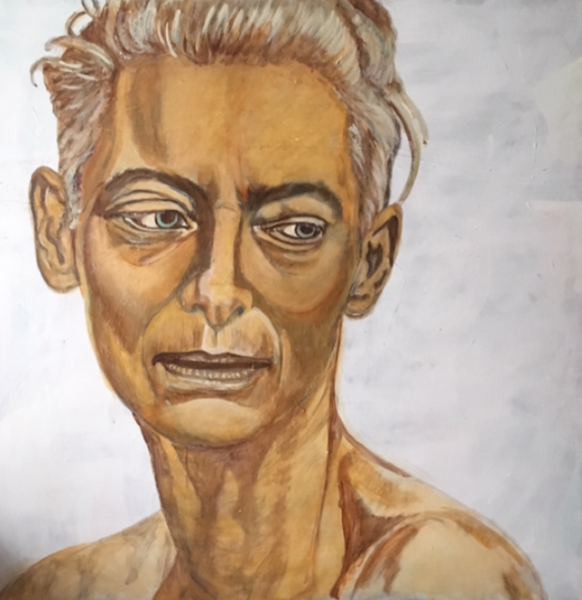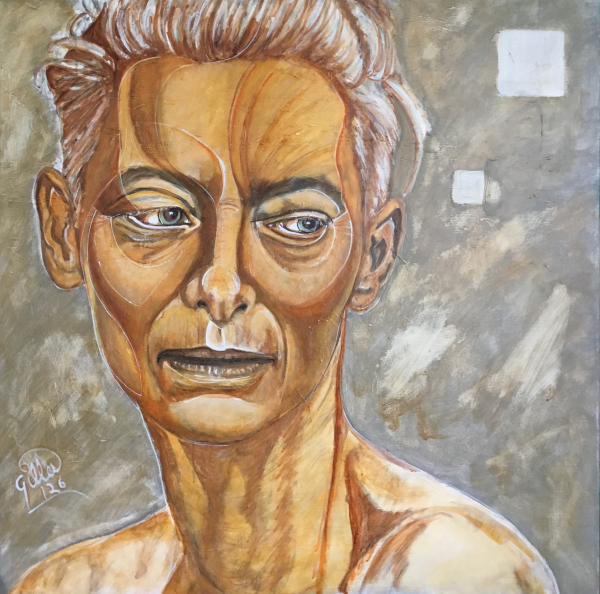 Above is the fill in of the sketch and  on the left the completed painting. at first this was a more traditional work, but I started to add geometric white and red  lines  and it ended up looking like what you see here. When I showed it to a friend he told me this was Tilda Swinton from (recently) Doctor Strange movie , saw that  and remembered. He thought the geometric lines relevant, of course said I! thats what I was going for.